Editing can make or break your book. Be on the lookout for a skilled editor.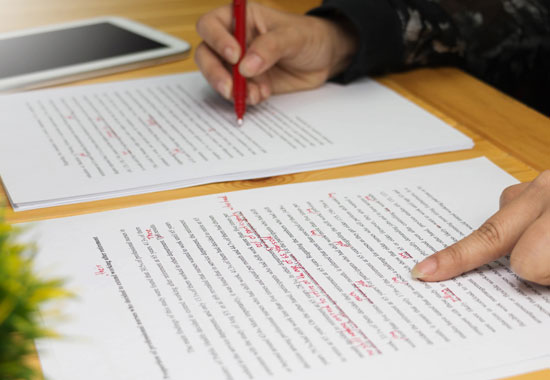 Do I really need an editor?
"I used to top my English lit class, you know!"
"I even got an A++ in speech and drama once."
"What the heck! I have a PhD in neuroscience – you want me to hire an editor?? Really?!!"
Short answer – Yes.
No matter, how erudite you are. How well-read, how many papers you have published, when it comes to writing a book that is going to be read by thousands, if not millions, you really do need a heck of an editing team to make that happen.
You read right – I said team. Not just one editor. And they will do several rounds of editing to your book – not just the 'one and done.'
So now, that that's out of the way and you understand that editing is not a five minute job, you and I are going to get to the very essence of the beast that is editing.
We're going to talk about the different types of editing, what it can do for your book.
Whether it is just to improve or enhance your writing skills, correct your grammar and punctuation or help with getting clarity on your content, a good editor is a must.
There is going to be a section on self editing and how you can polish your manuscript on your own, but you must understand that self editing is good up to a point. You do need a professional third eye ( or eyes) to get your book to a good publishable standard.
The last thing you want is a great subject matter but when someone begins to read, they are put off with poor narration, sentence structure or innumerable typos.
You can learn how to self edit, but we are also going to cover how and when you should consider a professional editor. But of course, it's always good to start at the beginning:
So let me explain what editing is all about…
Editing is the process of reviewing the raw manuscript and suggesting improvements to the author. There are two primary categories of editing: developmental editing and copyediting. But there's also line editing and proofreading and manuscript critiques.
Developmental editing: This type of editing focuses on significant structural issues that might otherwise be missed. It takes into account the deeper levels of meaning, revealing ways to enhance them, build an engaging story line, or works on strengthening character development. Developmental editing provides an overall assessment of a manuscript's effectiveness.
Many people confuse developmental editing with substantive editing. They are similar in that both focus on storytelling and character development. However, whereas substantive editing focuses on the minute details of plot, dialogue, tone, and structure (for example), developmental editing looks at the big picture. It's about determining the overall effectiveness of a manuscript, not spotting typos and missed words.
Copyediting: In principle, copyediting means providing clearer sentence structure and making sure there are no inconsistencies in the text.
Contrary to popular belief, the copyeditor is not a glorified spell checker. He or she is your partner in publication. Your pen for hire. They are there to make sure that your manuscript tells the best story possible. The copyeditor focuses on both the small details and the big picture. He or she must be meticulous and highly technical, while still aware of the overarching themes at work within your manuscript.
Copyediting provides readers with clarity and ensures consistency throughout a book of any length. You will see an immediate difference in your writing when you use a copyeditor to make sure that your story is told properly.
What to expect from the copyediting process – these are just some of the things a copy editor does.
Check for errors and consistency in sentence structure, usage ( e.g. American British or Australian English)
Makes sure all loose ends are tied
There are no anachronisms
Factually incorrect statements or global dates and events
Checks for potential legal liability
Checks for inconsistency within the story. This includes character description, plot points, and setting.
And just to give you a brief overview, here's what a proof reader does:
Removes errors in grammar and spelling
Cleans up punctuation to make sure it logically flows from one sentence to the next
Verifies that facts are accurate and strives to iron out any discrepancies
Refers to style manuals for the most up-to-date language rules, titles, etc.
Good editors offer feedback and encouragement, but they don't impose their own vision on the book.
So let our team of professional editors work with you to make sure your manuscript is the best it can be. We will help you clean up your writing and make sure that it is easy for readers to read and understand.
When we're done, your story will be ready for the world to read.